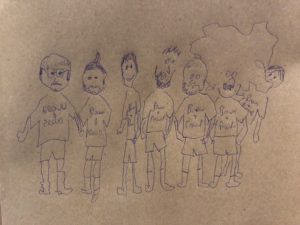 ATT: CB, TW, DC(2), EC(1), CG (MOM), RH, AW (dining only) and JM
NANNAS 3 versus CHEFFY FC 5
It definitely wasn't a massacre. We were in it up til the last second.  Well, pretty much.
We walked onto the court with the newest of all Nanna's Jason Monty. And a fine pick up he was. Fast, turning nothing into something, nearly incredible, several times.
We started with purpose until a crossbar shot of theirs bounced off our good looking goalie and then went back into the goal. A disappointing beginning. Then they got another and then the Brown Men awoke. The  change up was immediate. We realised that Elliot was probably older than some of the other players. They had a forward who looked VERY young. Maybe 16, but of course was amazing. They obviously came down from first division and hadn't played some one who had ever seen the 70's.
They had INCREDIBLE turning ability and put it into play often. But that didn't stop the Nanna's from scragging our way back into the game. We came within a goal at the end and then they got their last and they drew away. But we kept the pressure on right up to the end. We were BROWN and PROUD. A lion would have roared somewhere in the world last night between 7:20pm and 8pm.
How was Tao's anger you ask? First game back for 2 months? He was gentle like a catholic priest. As sweet as a mother in laws kiss. And demure as David Lee Roth. It was great to have him back on the hustle. No one has the hustle like the little feet of Weis. Cocky and Captain did their thang, . Chassy tried to impress Jason (sorry Jim) and Elliot played like a 29 year old. (First year Nanna's TM) and scored! Oh, Dan got two. Pretty much….
Post match our numbers changed as Chassy ran off with Jason somewhere….and we were joined by the recently retired (for a year) Andy "The Greek" Wong. As MOM I took it apon myself to order for the boys at the local Vietnamese, Green Fields. I got a 7.