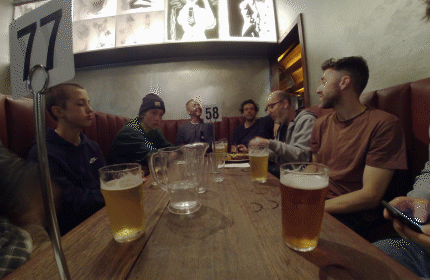 7-6 v Phil with the Big Moustaches's Pink Team from the League Above Us Due to a Forfiet
dc(3,M), ec(2), cb(2), rh, th(GK), tw,  aw(AC), sb (supporter)
Great game Nannas. It was a forfeit for so we had the points in the bag and Phil with the big moustache's men in pink had already played a game beforehand but still, it was great game. Complete with comebacks and a narrowly averted reverse comeback draw. 3rd String Goalie Sir Coachalot was massive in goals, shutting shit down with the ancient reptilian back brain hockey goalie muscle memory. Chasbian was the hustle master, harrying and hounding those in vermillion, forcing turnovers left and right and slotting home a couple of tidy little numbers to boot. Toaser was also in fine hustling form and worked the wide channels to great effect. Elliot brought his usual youthful energy and some deft foot skills, at one point taking a long ball from the coach and turning two of the opposition in one fluid move before sliding the ball into the bottom left corner of the goal. The Captain was a constant outlet, making run after run and peppering the goal from both flanks. The MOM managed a hatrick but also a few wayward passes and a couple of should-have-looked-and-passed-instead-of-shooting-from-halfways. Sol was a vocal supporter and Wal turned up for the second half earning another badge for his Holy Order of Arse Coaches Cassock. The game was also documented in a rare moment of mid 2000s gopro flashback (followed by the mandatory day of javascript fumbling trying to write an auto-retiming algorithm)
post game we went to the Retreat for cheap steaks and some suspiciously thin Steam Ales.
post pub we went to Gello Bar ( Chasbian's failed attempt to distract from the Slurpees that Sol and El were angling for) where Tao tried the Avergae, apparently a mix of Averna and Algae "You wouldn't think it would work, but it does".
meanwhile: Robert Mueller appears to be closing in on Individual One as Michael Cohen admits to lying. Labor absolutely smashed the Victorian election, which is good for  a solar rebates. Michael Kroger ( who I think might have some indigenous ancestry, which would be deeply ironic) has resigned after Jeff Kennet said he should on live TV. Knickers the cow (steer) is actually quite big and Arsenal finish top o father group in the Europa League with a game to spare. Perhaps most importantly though Andy 'Walmartin' Wong, the Life Coach's Life Coach, dropped a bit of a bombshell of this own, yes, a blatant heritage violation, removing a drunken chimney from his property, outrageous. He also mentioned that his appearances on the court of battle may be significantly reduced due to osteoarthritis in his big toe. It sounds a lot like some kind of greek euphemism but apparently it's true. Some fluid came out when Andy's bone went in ? or something like that. In any case it would appear that Andy's HOAC cassock and brown tie may be getting more of a workout than usual… RIP in the chat.
ps. it was Sillustani in Peru with the crazy awesome pre-incan funeral towers, but I can't find any definitive internet proof that the name refers to the bit of land where the chulpas are located being shaped like a "toe" poking into the lake…